The 2020 NBA draft class is stacked from head to toe with all kinds of athletic bigs and one generational guard as well, but in the end only one player can go at number 1.
1. Lamelo Ball
Lamelo Ball will be number one overall when the scouts catch on to his abilities as the public has, they will soon believe the magic they see when he steps on the court. Because of this, he lands number one because we know that by draft time teams will understand a 6'8+ guard that can average a near triple double and break records at every level should be the number one pick.
Lamelo is currently averaging a near triple double (21.4 PTS, 10.4 AST, 9.2 REB, 3.9 STL, 54.6% FG% 35% 3P%) at Spire Institute, after dominating against professionals in the JBA and in Europe, while the fact that he might not go to college could potentially stop scouts from taking him number one, he is every bit worth the hype.
– Many other mock drafts are starting to show Lamelo as a lottery pick, but we fully believe he is he best prospect in his class.
2. James Wiseman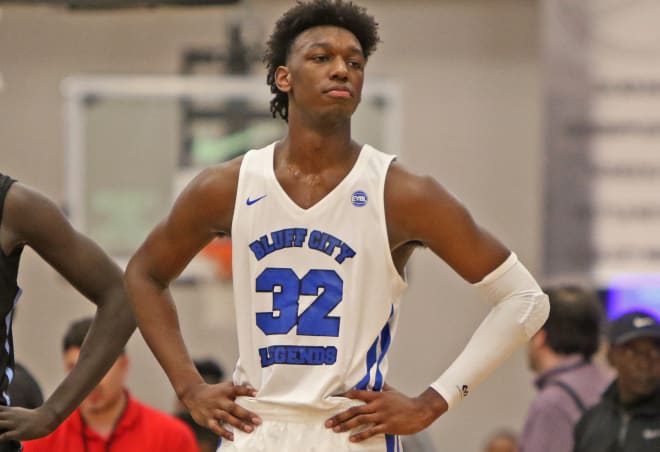 Wiseman is a 7 foot tall power forward with the capability to destroy some rims, not only that, he has a ball handling ability that makes him capable of creating his own looks at the basket, I would say he is as close to a top 5 lock as there is in high school.
Stats: 19.2 PPG, 8.4 RPG, 2.6 BPG
3. Vernon Carey
A big with a powerful post game as well as a perimeter touch that gives him the potential to be a unicorn in the league similar to Joel Embiid, the Duke commit is one of the top contenders for the number one overall pick.
Stats: 20.2 PPG, 8.8 RPG, 0.8 APG
4. Cole Anthony
If not for Lamelo Ball, Cole Anthony would be the best point guard in this class, he is a fantastic play maker that is not afraid to score his own looks either, he is a true modern day point guard made for the league.
Stats: 24.4 PPG, 7.8 RPG, 4.5 APG
5. Jaden McDaniels
A mobile and lanky power forward who has the potential to be something special due to his natural gifts, he is certainly a player that could be considered boom or bust.
Stats: 17.8 PPG, 8.8 RPG, 2.2 APG
6. Anthony Edwards
An athletic 2 guard who is adept at driving to the rim and finishing as well as a secondary play maker. He has the perfect size and body type to excel in the league as a scoring 2 guard.
Stats: 21 PPG, 6.1 RPG, 4.2 APG
7. Nico Mannion
A fantastic two hand passer who can also get downhill and score, other than his slightly small size, he is a very complete player, this is a player that has a very bright future. Mannion is a scorer first, so he could see time at the point and shooting guard spots in the league, and gives him fantastic versatility.
Stats: 29 PPG, 6.3 APG, 5.9 RPG
8. Bryan Antoine
An athletic shooter who is very good at the catch and shoot as well as creating his own shots on the perimeter. What he needs to work on is filling out physically, at 6-5 and just 170 pounds, it is possible he could be beat around in the NBA.
Stats: 23.3 PPG, 5 RPG, 4.1 SPG
9. Theo Maledon
A6-5 point guard, Maledon has great size for his position, he may not be fantastic in any particular area, but he is solid in every area which makes him a player who could be molded into an all around player.
Stats: 7.3 PPG, 2.1 APG, 2.2 RPG
10. Isaiah Stewart
A power forward/center who will have no issues around the rim in the league, his lack of size at the 5 spot and lack of perimeter presence however, could cap Stewart's NBA ceiling if he can't expand.
Stats: 17.6 PPG, 11.2 RPG, 1.2 APG
This list will be updated gradually until we have the whole first round so stay tuned!