What does music mean to you? Is it nostalgic? Maybe even give you life? For me music is a force that has facilitated a means of connection, creating moments that will last forever and friendships that cannot be severed. On The Eclectic Ear we understand the power of music and try to add to the music lover's relationship with the force that brings so many of us joy, happiness, and for some a sense of being.
With that being said, let's jump into what we hope will be a list that brings the reader a little piece of happiness in the form of some tracks that take only a few minutes to give you that priceless feeling.
1.  "Under Control" – The Internet (Ego Death)
Birthed from under the umbrella of the infamous cultural misfits Odd Future, this group is a mix of unlikely counterparts that marry to make up one of the best new age R&B collectives that music has to offer. From the groups third studio album Ego Death, the track "Under Control" is perfect at showcasing what makes The Internet so special. With soft, sweet vocals from lead singer Syd that ride over a relaxed, light jazzy rifts this one has classic Sunday vibes. Repeat is being punched heavy on this, and this groups material in general. Give The Internet a listen, from tracks like this to funk grooves they are sure to take you on a ride musically and become a favorite.
2.  "Calling My Spirit" – Kodak Black 
Our favorite "Project Baby" is back again with another single that is sure not to disappoint with this track which is sure to be a single off his highly anticipated new project. Like many other Kodak tracks that have made fans fall in love with his raw and unique sound in the past, "Calling My Spirit" channels the same street gospel type feel.  The Florida native references the struggle of his new found success that contrasts with his harsh and troublesome upbringing that includes stints in prison, and the evolution of his spirituality. Kodak has a talent for creating track that are unpolished, but draws the listener in with his charisma and ability to convey his message.  His star continues to rise in the rap community, and I have a feeling he will be around to stay.
3. "Barbecue" – Yung Nudy (Nudy Land)
This artist has been on my radar as of lately, another rapper out of Atlanta with his own take on the trap music that has made Atlanta a hub for new upcoming artists. The first single I heard from Yung Nudy was "Zone 6", and it became an instant favorite of mine, his uptempo, club anthem that is an ode to the streets of East Atlanta. He cooks up another favorite with this one, however this track is a little more relaxed. He talks his "shit" over a slower tempo track, but gives you the same energy. Go ahead and turn this one up!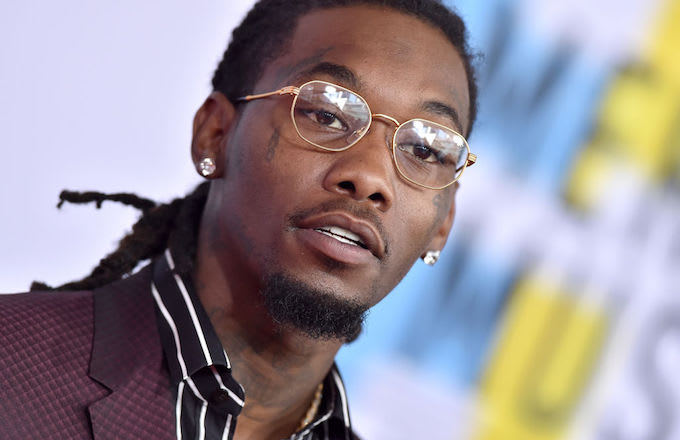 4. "Red Room" – Offset
On this single we see a different side of one part of the infamous Migos collective. This is the most introspective and sincere I've every heard Offset on a track. This seems like a ramp up for the release of his solo album, which follows Quavo's and Takeoff's solo projects. We hear the rapper, also known for being the husband of new female rap phenom Cardi B, talk about his back story we get more insight on his life before the fame. "Red Room" seems to show a human side of Takeoff, and however personal this track may be I see it being fan favorite for sure.
5. "Erase" – Omar Apollo (Stereo)
Making his first appearance on this list, but for sure not a new artist to me is Omar Apollo. His R&B/Rock/all around awesome melody "Erase" is more than worthy to be mentioned. I absolutely love the music this young artist is in, he truly is in his own lane. His fusion type sound really catches my ear because of all of the aspects of different genres that come together to make an amazing track, it leaves me wanting more. Personally as a listener I get bored with always hearing artists that have only have one sound, whether it be trap rap or romantic R&B, so on and so forth. The influence of his Hispanic/Latino upbringing can be heard throughout his project Stereo, and obviously his love for the soul sound shapes the direction of his music.
That wraps up this weeks edition of The Eclectic Ear, come back next week for the newest, hottest tracks that I am listening to and hopefully you'll be listening to after reading! I truly enjoy bringing this content to y'all weekly and would love to hear some feed back!
Y'all stay blessed, until next week.. ONE LOVE!
Christopher Weaver is a fourth generation Dallas, TX native, and currently resides in the North Texas suburb of Allen, TX. A Texas Tech University Alumni with a passion for sports, music, food and travel along with an eagerness to share all of what the DFW metroplex has to offer.