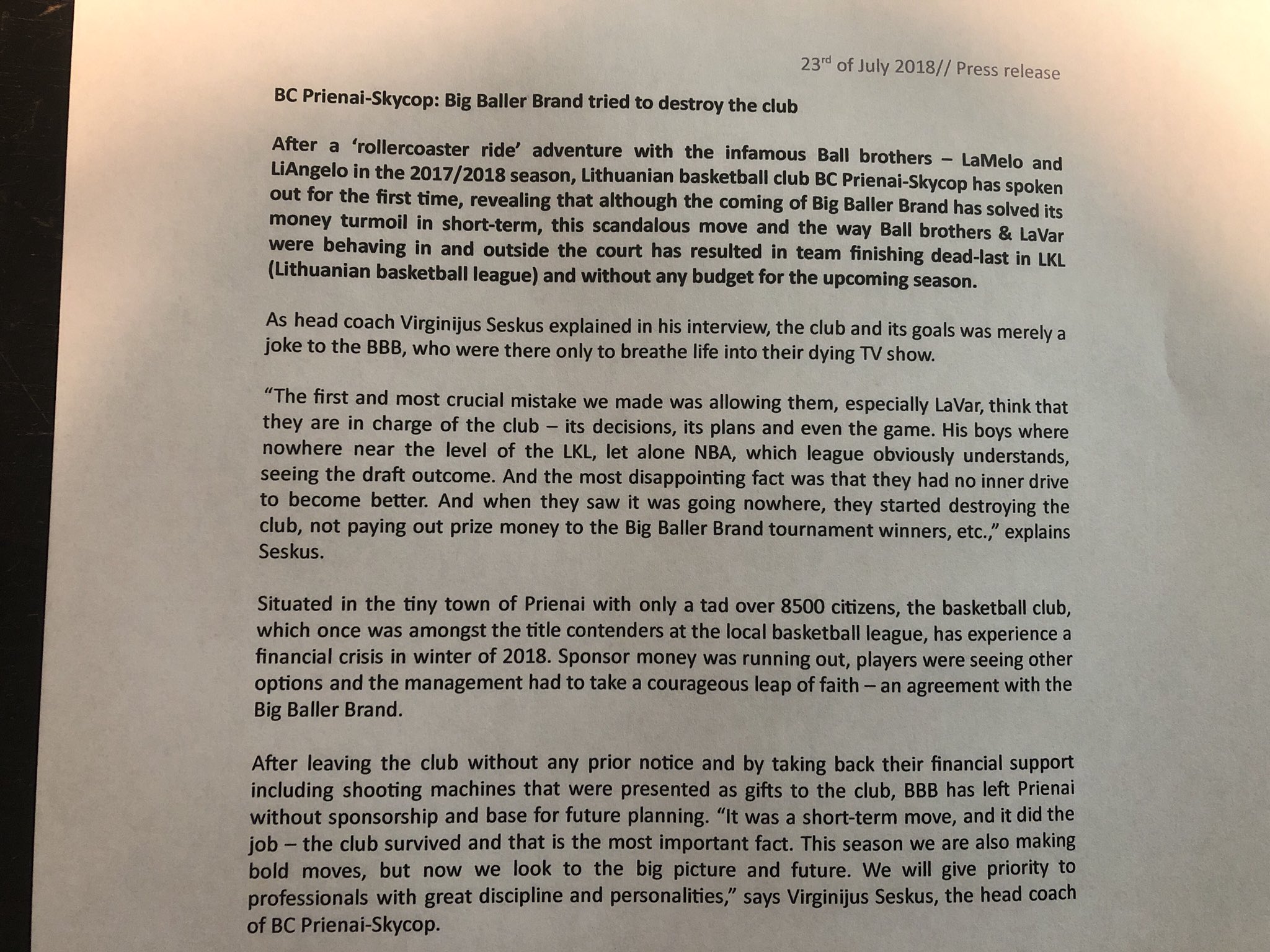 The Ball Brothers were sold a dream to play for BC Prenai-Skycorp. BBB gifted the team in advance due to the promise(s) that were made, & later not met by the club.

Therefore, BBB recoup what they could & moved on.

Seskus continues to scapegoat BBB to receive concessions.

— Big Baller Brand Media (@theballera) August 24, 2018
Man, it seems like every week someone else wants to come out and make wild claims against the Ball family and Lavar for the sake of publicity and getting their name in the news.
This time a former coach of Lamelo and Liangelo Ball spoke out against the Balls stating, "The first and most crucial mistake was allowing them, especially Lavar, think that they ran the club." These statements come from a team and organization so badly managed and funded that Lavar personally bought multiple shooting machines for the team to use, even if they had been presented as a gift; at the time Lavar was promised multiple things from coach Seskus including ample playing time for his boys on the court together. This wasn't lived up to by the Vytautas coach, and as he continued to sit a star in 16-year-old Lamelo Ball (now 17) who has proven to be an NBA caliber talent, leading to a rocky relationship that forced the Balls to leave Lithuania where it isn't as sunny and warm as southern California.
Why… stay in a location where you aren't being paid what your worth, are contributing more to their platform than vise versa, and they also haven't lived up to their end of the agreement when you've went above and beyond to help promote the team as a sponsor.
Lavar and the Big Baller Brand didn't have to sponsor any tournaments to further the teams global reach and appeal, didn't have to give any shooting machines for any period of time (to a team that couldn't afford machines might I add), and he didn't have to have a deal in place to get these games aired LIVE across the world for the first time in LKL history. The only thing Seskus and their management team should be doing is giving a resounding thank you to the Balls for everything they tried to do for that horribly ran organization. If you can't take that sort of publicity and help from the outside as a management team and turn that into team success and profits that you are the problem not the Balls. I know for a fact more Vytautas jerseys have been sold in the last year than any year prior, maybe even in the history of the team combined. Lavar's first and foremost responsibly is to his sons and making sure they are getting the best shot for them to get to the league, after all everyone is tuning in to see the Balls not Seskus's son Domantas Seskus.
Once the coach continued to not live up to his side of the bargain with what Lavar and the Big Baller Brand were providing them, forced Lavar to look elsewhere. Liangelo whom at one point in the season was the leading scorer of all the LKL, and while he did regress as the coach continued to use him less and he battled through injuries he still finished as a top scorer in the league while shooting above 42% from 3-Pt range. Lamelo the biggest and youngest star on the team wasn't even given a real chance to compete or play alongside his brother as promised because the coach didn't like his play style and attitude, but instead of working with the young Ball brother and developing him as a player and a leader for his team he isolated him and didn't give him a fair shot to show what he can do. The team was already well below a .500-win percentage before the Balls joined the club, so blaming any failures or lack of success on them isn't fair when you didn't even give them the chance to perform for you. Had Lamelo and Liangelo Ball been playing 25 minutes a piece they'd have won a lot more games.
Highlights Provided by FrankieVision ↓↓↓↓↓
The Team did manage to pay off all its prior debts thanks to the Ball family, so the team should have nothing but gratitude towards the ball family. However, because the coach was called out again and again in their reality show, which he even mentioned in his statement about the Ball's I believe he has ill will and wants to point fingers and blame for the team's failures last season on anyone other than himself. The team is most likely wondering how they made the most money in team history, while not finding a way to win games with what were 2 of the biggest stars they have or will ever get to join their team. The answer is simple Coach Seskus didn't do his job as a coach and because of that the team failed, putting any blame on a player you didn't even play is ridiculous to say the least, especially when your replacement players were that awful in his place. The coach is most likely fighting to keep his job as is and with the need for new sponsors and help now that Lavar has taken his growing empire with him the coach is scratching for ways to stay relevant.
Lastly, just wanted to point out how the teams press release claims Lavar took back his financial support and shooting machines. Lavar made a commitment to support the team his SONS are on, and they didn't live up to their end for even a full game, so the only angry press release should be by Lavar. The Ball brothers were not given the chance they were promised and then the coach wants to call out both players for their skill level when Liangelo was by far the best player on the team when he suited up for them. The team mismanaged the situation and didn't have proper coaching in place and that is what led to the fallout, Lavar and the Big Baller Brand did everything they promised to do and more. The team on the other hand didn't live up to their side of the bargain and really have no grounds to stand on, except they want to stay relevant and the easiest way to do that is say something negative about Lavar or the Ball family.